A2 Paper Dimensions
Standard ISO A2 paper dimensions are:
420mm x 594mm
16.54" x 23.39"
Equivalent A2 paper dimensions in pixels at 300 DPI and 72 DPI respectively are:
4961 pixels x 7016 pixels (print resolution)
1191 pixels x 1648 pixels (screen resolution)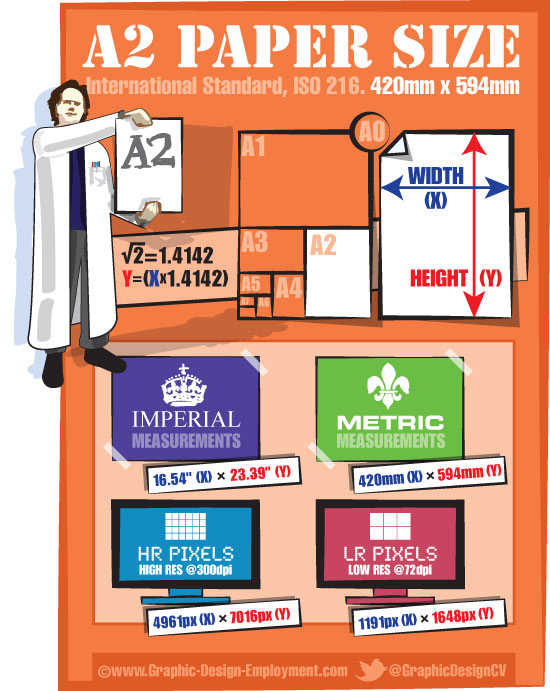 Embed This Infographic:

ISO 216 Page Sizes Cheat Sheet Poster (PDF)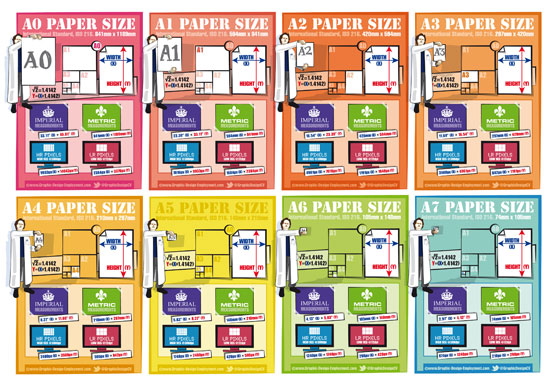 Download the Free ISO 216 Page Sizes Cheat Sheet Poster (PDF)
(via Pay with a Tweet)
If you'd like to download the above poster and spread the word at the same time, we'd be very grateful! We have set up a 'Pay-With-a-Tweet' link (above) that will help you do just that. If you'd prefer not to Tweet about it just click here for a standard download - we hope you find the poster useful. We created this page size infographic / cheat sheet so that a designer or client could get an instant visual idea of how big (or small) a certain size is in relation to a person... and also to expand the usual measurement information to include pixel dimensions in both high (300DPI) and low (72DPI) resolution.
Resources & More Information
---
Search Graphic-Design-Employment.com